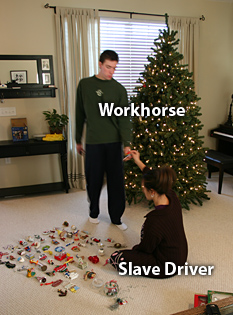 Just kidding
-- she fluffed out more branches than I did (it's fake), hooked up the mantle with great decorations (not pictured), and put half the balls on the tree (also not pictured).
I was feeling pretty bah-humbug-ish on Saturday morning when we went to set it up, but it turned out to be an enjoyable experience. I wasn't looking forward to hearing any sort of Christmas music, so I started out with an
OCRemix
playlist much to Sharon's dismay (she didn't complain though <3). I was jamming out to
Laser Squad Mission Recalled
, and then I remembered the awesome remixed Christmas tunes I've heard in all those wonderful stores at the mall. So I found a suitable one on
Amazon: Christmas Remixed: Holiday Classics Re-Grooved
. Hit preview on the 2nd track (Happy Holiday).
So those tunes really got me in the holiday mood, and I had this idea to get a time-lapse of the tree set up. Unfortunately, I realized this too late to really pull anything of worth off, but I did it all the same.
This pathetic specimin
will serve as a reminder for next year to do it right (1 frame every 15-30 seconds from nothing there, to a completed tree).
That's us in the end, dancin' to Joy To The World (track 5), cus da lord done hath cometh.